Friendly's Closes Tewksbury Restaurant
Aug 27, 2014 02:44PM ● By Bill Gilman
Friendly's Restaurant in Tewksbury closed for good this week.
The Friendly's chain of restaurants has closed its Tewksbury location, permanently.
According to a company spokesperson, the decision to close the restaurant coincided with the end of the chain's lease at the 759 Main St. location.
The restaurant served its final meal Sunday night, at which time workers were informed of the closing. Would-be diners were greeted, Monday morning, with a sign on the door announcing the closing.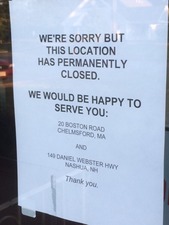 A public relations firm representing the company released the following statement on Wednesday:
On Sunday, August 24th, 2014, Friendly's Ice Cream, LLC., announced the closing of its Friendly's location in Tewksbury, Massachusetts in anticipation of the expiration of its lease. The restaurant located at 759
Main Street in Tewksbury will cease operations, effective immediately.
Friendly's in Tewksbury values its guests and thanks them for their patronage.
The Friendly's chain of restaurants has 330 locations overall and 59 in Massachusetts.
Friendly's closes its Tewksbury restaurant. [3 Images]
Click Any Image To Expand
Follow us on Facebook at https://www.facebook.com/yourtewksburytoday/ Follow us on Twitter at @TewksburyToday Follow us on Instagram at YourTewksburyToday