Enter To Win In Our Halloween Photo Contest, Sponsored by Al Fresca
Oct 20, 2014 06:01AM ● By Bill Gilman
It's that time of year again, the time when folks like to wear masks and pretend to be something they're not.
But enough about the election .....
Just kidding.
It's Halloween season!!
And Your Tewksbury Today wants to give away some treats with our Halloween Costume Photo Contest, Sponsored By 
Al Fresca Ristorante, 1768 Main St, Tewksbury and 
Altitude Trampoline Park, 700 Boston Road, Billerica.
Entering is simple. Just e-mail your name, address and telephone number, along with a photo of you, your spouse, your kids, or even your pet, dressed up for Halloween to:
Bill@yourtewksburytoday.com
Subject line -- "Halloween Photo Contest."
All photos will be published on YourTewksburyToday.com and two winners will be chosen at random from among all the entries. One winner will receive a $25 gift certificate to
 Al Fresca Ristorante. A second winner will receive Passes to Altitude Trampoline Park.

You must be at least 18 years old to enter. All entries must be received no later than 8 p.m. on Saturday, Nov. 1, 2014. One entry per person. No Nudity. General contest rules for Your Tewksbury Today Contests 
can be found here.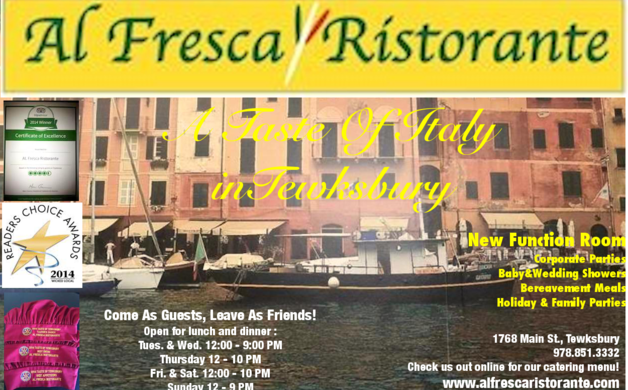 Follow us on Facebook at https://www.facebook.com/yourtewksburytoday/ Follow us on Twitter at @TewksburyToday Follow us on Instagram at YourTewksburyToday